Massacooramaan - Dead Long Time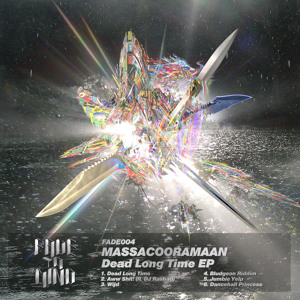 I am truly blown away by Dave Quam. As a music writer and journalist, the depth and breadth of his musical knowledge is astounding. His blog, It's After The End Of The World, is a vast and legendary source of subsurface music and information, and is probably the best place to start if you want to dig deeper into the multitudes of cultural and musical influences that permeate his first EP as Massacooramaan, Dead Long Time.
The 6 track EP was recently released on Kingdom's Fade To Mind, adding Masacooramaan to the labels growing ranks of fresh and exciting artists. Nguzunguzu, MikeQ, Gremino, DJ Rashad, Total Freedom and Vjuan Allure, to name a few, have all released music on Fade To Mind; an army of producers that Massacooramaan sits with perfectly. It's worth mentioning the Nguzunguzu remix of Massacooramaan's EP title track, Dead Long Time - it's fucking cunty and, as a giveaway from Fade To Mind, you can download it for free here.
So - the Dead Long Time EP sounds abstract, minimal and pretty fucking next level, with strong roots in a wealth of different cultures. The genuine interest Dave Quam has in music, alongside his years of digging, researching and collecting it, can really be heard in his own productions. Influences from footwork to reggaeton, bubbling to grime and juke to dancehall mesh with more under the radar styles such as zouk, agressivos, kuduro, tarracho, coupé décalé, logobi.... Eastern, African, European, South American - club music and folk music - it's all here. Although I've already mentioned it, I'm gonna urge everyone to check out It's After The End Of The World for some eye opening and mind expanding info on all of these genres and cultures, as I am in no way as educated on them as Quam is.
However, although there is an exchange of influences and cultures happening in the Dead Long Time EP, they're blended together in a way that creates something entirely new. There is definitely a unique 'Massacooramaan style' going on here. Throughout the EP there are recurring elements such as complex drum patterns, interrupted and chopped up MPC vocal samples, weirdly mournful yet upbeat melodies... It has a strangely metallic and holographic sound. It's universal, spatial, elemental, intent and direct. It's pretty jagged; there aren't many smooth edges or soft layering of harmonies, with the exception of the track Jumbie Yelp which contrasts to the rest of the EP like a wave in comparison to the rocks it crashes over. The title track, Dead Long Time, is in Quam's own words "a homicidal ladies jam", so you get the picture. Bitchslap to the face.
The intricate variety of samples and sounds create an intense listening experience, and I fucking love it. I was going to write a little bit about each track, but to be honest I think the best idea is to buy it yourself and/or stream it here. My far and away favourite track, however, is Dancehall Princess, finishing the EP with massive, massive club vibes. It's honestly fucking insane, gradually building in power and potency, creating the architecture of a packed, rushing dancehall full of collective breathing bodies. I swear you can almost feel the sweat pouring off you; this is blazing, hot as shit music.
Massacooramaan - Dead Long Time is out now, available on MP3 and vinyl.
Words:Eleanor Bell
24/07/2012 10:21
below the line tv, uk bass, bass music, grime, dubstep, 2step, house, garage, Eleanor Bell, feature